Key Benefits Of Taking Up A Master's In Canada
Sulekha
Study Abroad Team
28/07/2023
Millions of students from different parts of the world flock to Canada after completing their higher secondary examinations or graduating every year. The sole objective is to pursue higher studies at the top-ranked Universities in Canada.
It is renowned worldwide as the most student-friendly nation. Thus, more international students are attracted to than other study abroad destinations. One who decides to pursue a Master's degree course in a Canadian University can reap many irrefutable benefits. Enjoying the same advantages might not be possible if an aspirant chooses the USA, the UK, or other countries.
The number of Indian students doing Bachelor's or Master's in Canada is huge. The prestigious Universities offer a Master's degree program in multiple disciplines. Besides high-quality education and affordable tuition fees, numerous reasons compel most international students to study in Canada. Keep reading to explore the advantages a student can enjoy if opting to pursue a postgraduate degree program in an esteemed Canadian University.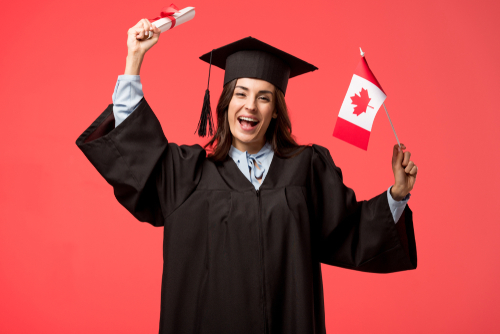 Top-Ranked and Prestigious Universities
Every student who wants to study abroad knows the presence of some of Canada's world's best colleges and Universities. Almost every higher education institute in the second largest nation in the world prioritizes maintaining its reputation pertinent to academic performance. In addition, most Canadian educational institutions ensure the graduate employability rate remains high. Here are some top-ranked and esteemed Universities in Canada.
University of British Columbia
University of Toronto
University of Alberta
University of Montreal
McGill University
In 2023, according to the QS World University rankings, 8 Canadian Universities made it to the list of the world's 200 best Universities.
Superior Quality of Education
Canada is well-known worldwide for having educational institutes that prioritize providing the highest standard of education to students. Most recognized schools, colleges, and Universities in this nation focus more on constantly upgrading infrastructure and facilities. The study programs in multiple disciplines range from engineering to medicine, science to tech, and arts to economics.They do so with the sole objective of contributing to education quality. It is the most preferred country for international students because many Universities offer various PG courses besides international degree programs in Canada. The possibilities of a rewarding and lucrative career increase for a student with a Master's degree from a Canadian University.
Affordable Tuition Fees
International students who are not from affluent families can even afford to study their coveted Master's degree programs in Canada. The tuition fees that most Canadian Universities charge are lower than the higher education institutions in the USA, UK, Germany, etc. Moreover, the cost of living in this nation is cheaper than other popular Western countries.
Students from around the globe who get admission to reputed Universities in Canada can also apply for several scholarships and fellowships. Using scholarships and fellowships can help them study and stay in Canada without the stress of managing money to fund their studies, fooding, and accommodation.
Easy to Communicate in English
Indeed, Canada is one of those countries where nearly everyone understands and communicates in English. French is another official language in this nation. However, the majority of citizens prefer speaking in the English language. Therefore, it is ideal for all students who wish to pursue the best courses in Canada after the 12th. 
So, international students do not face language issues during their stay in Canada. One who is passionate about learning new languages can acquire French language skills. All higher education institutes in Canada offer Undergraduate, Postgraduate, and Doctoral degree programs in English.
A Safe and Secure Country
One of the safest nations in the world is Canada, with a very low rate of criminal activity. This country is a temporary home to millions of students from various parts of the world every year to pursue higher studies.
Every international student who studies in Canadian Universities likes the open-minded and friendly aspects of the citizens. Accommodation and transportation facilities in Canada are top-notch. No one who pursues one of the UG or PG courses in Canada finds it challenging to adapt to the multicultural environment.
High Standard of Living
In terms of a first-world country, almost everything in Canada is reasonably-priced. The standard of living in this nation is high compared to many other European nations. Canada's cosmopolitan, diverse, and vibrant environment in Canada makes this country stand out.
The strength of the economy of Canada, besides the accessibility and availability of various public services to citizens, tourists, and students, helps contribute to its high standard of living. The quality of life in Canada is far better than in the US and the UK.
Excellent Work-Life Balance
All international students can work while pursuing a Bachelor's, Master's, or Doctor's degree course in Canada. The Canada study permit allows an international student to work for nearly 20 hours on a weekly basis. 
Aside from helping them supplement their income when they study in Canada, doing a job enables them to become more familiar with the work environment in the country. Undoubtedly, getting to work and earn while studying in a foreign nation is exciting. However, students can lose their authority to pursue a job in the future upon violating study permit conditions.
Great Immigration Opportunities
One of the several reasons that compel students to take up one of the best PG courses in Canada is the immigration opportunity. It has some significant policies that are friendly for immigrants who enter the country for study and job purposes. 
Canada is one of those few nations allowing international students in colleges and Universities to apply for permanent residency. One can get hold of the permit only after completing their course and obtaining the degree. 
Canadian Universities Prioritize Research
Most Master's degree programs in Canadian Universities require students to conduct thorough research on something relevant to their field of study. International students do not often get opportunities to participate in groups performing multiple experiments for project purposes.
The best courses in Canada after 12th science enable students to gain practical study experience. Moreover, they get the chance to improve their knowledge and critical thinking by doing research and intriguing, innovative experiments. A substantial part of the research activities that Canadian Universities perform leads to notable discoveries.
Plenty of Lucrative Job Opportunities for Graduates
Canada has some leading companies across diverse sectors after the USA and the UK. So, the potential to bag a lucrative and gratifying job is more for international students with a Master's degree. Once students complete their higher studies and get their hands on the coveted degree, they can apply for a postgraduate work permit to pursue a job in Canada for three years.
Many globally renowned business enterprises offer excellent packages to talented and qualified students after they finish post-graduation or Ph.D. Additionally, several immigration policies allow students to file an application for permanent residency and do a job while studying.
Over 60% of international students prefer to return to Canada to work after their Master's. International students who aspire to study in Canada after their graduation must make a move sooner than later to secure admission at the coveted Canadian University. Applying for an available scholarship and receiving it can help an aspirant fund their higher studies in Canada successfully.