Explore opportunities and expert guidance on your study abroad journey.
Sulekha
Study Abroad Team
18/11/2023
2 Mins Read
Welcome to Sulekha Study Abroad, the trusted source for you to navigate top countries, universities, and courses while pursuing your dreams of studying abroad. With a dedicated team of experienced advisors, we ensure a rewarding experience with a series of informative content exclusively drafted for you while you embark on your study abroad journey.
Articles are well-researched and written explicitly for Indian students to get valuable insights to simplify their study abroad journey. Experts have comprehensively detailed top study-abroad destinations, educational systems, renowned universities, language proficiency exams, scholarships, application processes, visa guidelines, and more.
As a student, studying abroad provides you with an exciting opportunity to immerse in different cultures, languages, and customs. It's a gateway to your personal growth, independence, and self-confidence as you navigate unfamiliar surroundings and forge new connections. By experiencing life in a foreign country, students expand their horizons, gain a global perspective, and develop valuable skills that benefit them academically and personally.
Introducing our 10-Step Study Abroad Guide, specially crafted for Indian students who aspire to study abroad. Country, Course, Entry Requirement, Application Process, Visa Process, Scholarship & Loans, Travel & Stay, Career & Job Opportunities, This comprehensive resource gives students the essential information and support they need to pursue their dreams.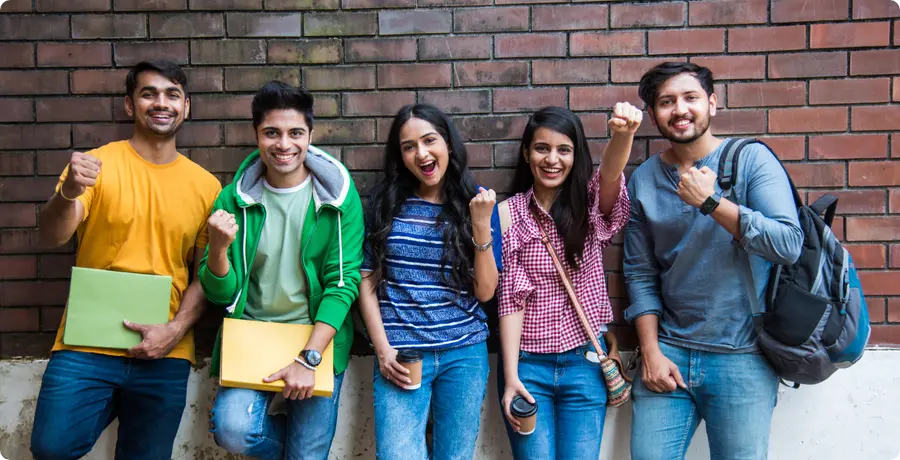 TOP COUNTRIES TO STUDY ABROAD
UNITED STATES OF AMERICA (USA)
Studying in the USA offers abundant opportunities for Indian students with a world-class education and diverse culture. The universities in the USA offer research-driven programs with innovative teaching to ensure that the students are exposed to rich and valuable academic experiences. Explore more about studying in the USA to embark on your career journey.
UNITED KINGDOM (UK)
The UK is one of the top study-abroad destinations known for its prestigious universities, rich academic history, and diverse cultural experiences. Indian students can immerse themselves in world-class education while exploring historic landmarks and vibrant cities.
AUSTRALIA
Australia aims to offer an exceptional study abroad experience for Indian students with its quality education system, cutting-edge research, and academic and cultural elegance and richness. Know more about diverse courses, globally renowned colleges, scholarship programs, and more.
CANADA
Canada is well renowned as one of the top study destinations in the world. It is a country with high quality of life, ample PR opportunities, and top-notch education. QS Higher Education System has ranked Canada as one of the top 5 nations with robust higher education systems. Learn more about this magnificent country here!
GERMANY
With well-equipped labs and research facilities, the oldest and well-renowned universities, and ample resources, Germany is one of the most popular destinations for study abroad programs. Germany is also an affordable place to live in compared to the other European universities. Know more about this stunning country.
NORWAY
Norway is a top study destination, surrounded by stunning natural landscapes and a warm, welcoming community. The country opens doors to various new learnings and job opportunities. To top it all, most of the institutions in Norway offer higher education free of cost. Explore more on the key highlights of the Country.
DENMARK
Denmark is a highly preferred study-abroad destination, known for its safe and welcoming environment. Apart from this, Denmark is popular for its highly reputed institutions, quality education in English, and outstanding infrastructure. Discover the key features of Denmark.
NEW ZEALAND
Italy offers a captivating study abroad experience with its rich history, vibrant culture, and world-renowned art. Students can immerse themselves in the beauty of historic cities, savor delicious cuisine, and access top-notch education while exploring Italy's iconic landmarks and landscapes.
FRANCE
France is best known for its world-renowned universities with rich history and vibrant culture, which offer a welcoming environment for international students who aspire to study abroad. Discover various courses, reputed colleges & institutions, study abroad scholarships, and more.
ITALY
Italy, renowned for its rich history and vibrant culture, is an enticing study-abroad destination. With world-class universities, captivating art, and picturesque landscapes, students can immerse themselves in a unique academic and experiential journey.
IRELAND
Ireland is an affordable study-abroad destination that offers a rich blend of history, art, and culture. From world-renowned universities to stunning landscapes, students can immerse themselves in a unique educational experience while savoring delicious cuisine and exploring iconic landmarks.
FINLAND
Finland is one of the best places to pursue higher education for international students as it offers high-quality education, vibrant culture, and stunning landscapes. Finnish universities are known for emphasizing practical learning, offering a balanced lifestyle promoting career growth. Explore more about universities, courses, fee structure, and more.
SWEDEN
Sweden is one of the most sought-after places for international students to pursue higher education. Swedish universities are popularly known for their reputation, innovation, and technological advancements in teaching, learning, and research methodologies. Delve deep to learn more about top universities, courses, scholarships, and more.