When international students list the countries they would want to pursue their higher studies in, Canada tends to feature as one of the top names on the list. While it is true that Canada has some of the best colleges and universities in the world, there is another essential reason behind the large number of students wanting to study in Canada. An international student gets many lucrative job opportunities after finishing an educational course or program from a Canadian university. While the college provides good placement support, students also get solid work opportunities when they apply for jobs independently.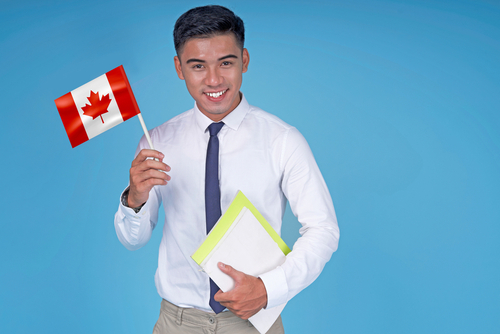 Post-Graduation Work Permit
After graduation, an international student can apply for a post-graduation work permit in Canada. An international student needs to remember that a post-graduation work permit is temporary. Once a student works for a while and gains enough experience, they can apply to become a permanent resident of the country. International graduates with some work experience can apply for Express Entry and become permanent residents of Canada. The applicant's eligibility will be determined by their educational background, work experience, skills, and language abilities.
Perks of Getting a Canada Work Permit Visa
Every year, more than 300 000 people apply for work permits in Canada. A large number of these applicants happen to be international students who studied in Canada. Once an individual acquires this permit, they can work in Canada freely. If the applicant has a spouse or family back home, they can refer to the Dependent Visa category guidelines and get them to the country. For the job a student does in Canada, they will be paid in Canadian dollars. They will face no employment-based restrictions and move across Canada freely as well. A while after being employed, the employee can apply for a PR visa and get a plethora of perks or benefits. Canada has a great working culture; procuring a work visa leads individuals to experience it. If an individual has enjoyed the experience of studying in Canada, they can be sure about liking the experience of working in the country even more.
Application for Canada Work Permit Visa
To get a work permit visa in Canada, an international student must provide proof that they have received a job offer or been given an employment opportunity by a company. Ideally, they would be required to submit a job offer letter provided and signed by the employer. There are many job opportunities after a master's in Canada. The application to get a work permit visa in Canada must be filled up in English. Apart from international students who have received their education from a Canada-based university, the work permit is also applied for by temporary workers who want to come to India to participate in a short-term assignment. A work permit can also be applied in the case of business-based travel or for working on an on-site project.
Eligibility Criteria for Canada Work Permit Visa
Before applying for a work permit, it is essential to review the eligibility criteria thoroughly. Awareness of it will help individuals prepare the documents in time and ensure no delays happen.
The applicant has to commit to the authorities about leaving Canada once or before their post-study work visa in Canada permit expires. They have to either show a document asked for by the authorities or book an airplane ticket to ensure they wouldn't be staying back in the country after the expiration of their work permit.
Before providing an individual with a work permit, the authorities try to ensure that they are physically and mentally fit and are not suffering from any ailment. The applicant must undergo a thorough medical examination before applying for a work permit. They must show their medical reports while applying for a work permit visa.
It is challenging for an individual with a criminal record to get a work permit visa to Canada. There is a definite reason behind the authorities doing a background check on the applicants and checking whether they have a criminal record. They need to ensure that the applicant will not engage in illegal activity while working and living in Canada.
Before applying for a work permit visa, an international student must know and remember that a few work areas are considered illegal. Through a document, the applicant must formally declare that they will not engage in any work or activity declared illegal by the Canadian government.
Even though an individual looks for work to make a living out of it, an international student who is planning to apply for a work permit must have some funds at their disposal already. The current financial status of the student should be the kind that enables them to cover a variety of expenses like living expenses, travel, and healthcare.Whether an individual is planning to apply for jobs after MS in Canada or looking for work opportunities after graduation, they need to make the authorities believe they have sufficient funds.
Documents Required for Canada Work Permit Visa
An international student, who wishes to work in Canada after completing their studies, must arrange many documents before participating in the application process. The applicant must have a passport that would remain valid for at least six months after they arrive in Canada. They would also be required to produce two passport-size photographs. Getting a formal picture clicked against a white or solid background would be advisable. They will have to show all the important certificates that give an idea about their educational qualification.
If the applicant has some work experience or has previously taken some kind of vocational training, they should provide documents or certificates that serve as proof of this. An applicant's medical reports must be procured from a registered hospital, clinic, or medical establishment. They also need to produce documents validating their claim of having enough funds to stay and work in Canada for a while.
Types of Canada Work Permit Visa 
Those who wish to work in Canada can choose from two types of work permits. After considering some important factors, the individual has to decide on the type of visa they want to apply.
Employer-Specific Work Permit
The employer-specific work permit is the kind of work permit that is applied by those who will be serving a particular employer. Many international students, who have acquired a degree from a Canadian university, opt for this course. Many students decide to work in Canada after they receive an offer letter or a job offer from an employer. It makes perfect sense for an international student to apply for an employer-specific work permit in such a situation. International students have to work towards converting their student visas into work visas to be able to apply for a fresh permit. The employer-specific work permit makes it imperative for an individual to work with a particular employer while they are in Canada. Using this work visa permit, they cannot switch from one employer to another.
Open Work Permit
An open work permit is far more flexible than an employer-specific work permit. It enables an individual to work with any registered organization or for any employer in Canada. While submitting the visa application, the individual does not have to mention the job or company they plan to apply.Because specific details about the employment are not required to be shared, the applicant is not required to procure documents from an employer. Having an open work permit makes it possible for an individual to conveniently move from one job to another. However, they must ensure that they do not engage in any kind of work that is illegal.
Difference Between Work Permits
An employer-specific work permit is given to an applicant after providing all the information about the employer they will work for. The open work permit gives an individual to work for multiple employers. However, the total time they can remain employed in Canada is mentioned. Anybody with a post-graduate work permit can apply for an open work permit, temporary work permit for spouses, world youth program permit, regular open work permit, bridging open work permit, and Atlantic immigration pilot program spousal permit. A post-study work permit or PGWP's duration is based on the student's course duration at the Canadian university.
Suppose the student's passport expires before the expiration of their PGWP. In that case, they can contact Immigration, Refugees, and Citizenship Canada or IRCC and get them to issue a fresh post-graduation work permit. To get a new PGWP in Canada, an individual must go through many steps. The first step involves filling up an application form to extend their stay and alter a few conditions. This has to be done at least 30 days before their work permit reaches its expiry date.They must apply for a fresh passport before applying for a new PGWP. They can apply for a work permit from the country or outside Canada. Whichever option they opt for, they will be required to pay the work permit fee of $150. For an open work permit holder, the fee is $100.