Entry Requirements For Graduate Programs Abroad
Sulekha
Study Abroad Team
28/07/2023
Once students graduate, they feel they have completed an important milestone in their life. Being a graduate opens up a plethora of job opportunities for them. While an individual has the option of taking up a job after completing their graduation, they can also opt for higher studies.
Percentage Required for Graduate Programs to Study Abroad
When somebody recommends aspirants to study abroad, they might wonder about the eligibility criteria. Before applying to any college or university, they want to know where they stand. They should also have some understanding or command over the subject they wish to specialize in. For instance, if somebody wants to do a professional course in photography, they might be required to sit for an examination in which their knowledge or understanding of photography will be tested.
Before discussing applying to universities in Germany or other foreign universities, let's discuss the methods or steps in applying to a local college. If a student wishes to pursue a course in the best college in their city, they need to score a high percentage. The college will have its cut-off percentages, and they must meet them. If their percentage is lower, they might have to settle down for another college.
Whether a student is planning to be admission to a college based in India or abroad, they must know that their percentage is the one thing that will matter the most. If they plan to apply for a graduate program, the marks or percentile they scored in their 12th board exams will be considered.
The percentage required for a student to get admission to a local college must be different than the percentage they need to have to secure a seat in the university that assumes the top spot in India. The same is the case with foreign countries. While a few of Germany's top universities might be open to giving admission to students who have scored 70%, there would be universities that do not consider applicants who have scored less than 95% in their 12th board examination.
A student, who plans to apply for a graduate program in a foreign university, must have secured a minimum of 60% in their 12th board examination. Once the results of the student's 12th board examination come out and they realize that they have scored 60% or above, they can take their plans of studying abroad further.
Studying in universities in New Zealand and other foreign universities has benefitted most Indian students. There have been countless instances of students scoring a middling percentage in their 12th board examination, enrolling in a foreign university, and finishing the course with flying colors. As long as the student has scored 60%, they can consider the idea of studying abroad.  
General Admission Requirements for Graduate Programs
If a student wishes to get admission to a foreign university of their choice, there are certain requirements they need to fulfill. As stated earlier, an applicant's last degree marks percentage should be at least 60%. While the percentage they score in their 12th board examination is essential, several other factors will be considered.
Before applying to a foreign university, a student must introspect and figure out how good they communicate in English. Apart from writing the language well, they should also be able to speak it properly. English language proficiency is extremely important for those who wish to study abroad. Applicants must appear for an English language test and score high marks.
The applicant's reputation is checked by both the visa-providing authorities and the universities to which one has applied. If there has been a gap in the applicant's studies, it will be difficult for them to secure a seat in a foreign university. For instance, if they took a break for a year after completing their 10th board examination and then resumed their studies, there is a strong chance of the colleges abroad rejecting their application.
There have been instances of students returning home without completing their courses at Switzerland's top universities as they run out of funds to advance their education. Sometimes, parents assure their children of financing their education and looking after their other expenses while they study abroad. However, a financial crisis or some other problem could lead to them being unable to fulfill their promise.
Students could face other finance-related difficulties that could compel them to leave their graduation program. Because of this reason, students are required to convince the authorities that they or their parents have the funds required for them to complete their graduation program. Apart from completing the course, they should have enough money to cover their living expenses.
The requirements for pursuing a graduate program in a particular college could be very different from those laid out by another college. Therefore, before applying to a particular college, students must thoroughly review its requirement. If they plan to apply to multiple colleges, they should check the requirement of each and every college separately.
The requirements are also driven by the country they choose to study in. Suppose a student is looking at universities in Australia for international students. In that case, they should know that the colleges and universities in this country are very particular about not admitting students who have suffered from a gap in studies in the past. During undergraduate studies, students are expected to score at least 70 percentile in English.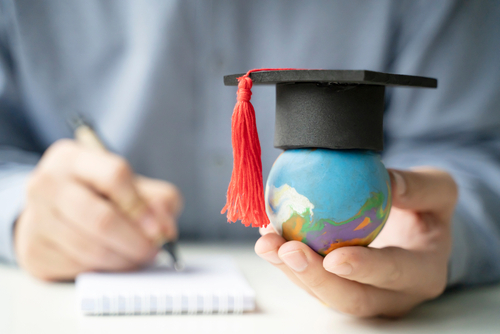 English Language Proficiency Requirements for Graduate Programs 
English language proficiency tests are essential for students wishing to study abroad. These tests show the colleges and universities that the applicant possesses the requisite language skills to study and engage in an academic environment. In today's globalized world, having a good command of English has almost become a necessity.
Colleges and universities based in English-speaking countries like the United Kingdom, the United States, Canada, and Australia make it mandatory for an applicant to sit for an English language proficiency test. For them, this is an integral part of the admission process. Apart from listening to and grasping lectures, students must be proficient in English so that they can be active participants in discussions and finish assignments and coursework diligently.
Students must also remember that those who pass the English language proficiency test and get a certificate get good professional opportunities in the future. Most reputed organizations worldwide offer employment opportunities only to those with at least basic English language proficiency skills.
Here are some of the most credible English language proficiency tests:
IELTS
IELTS, or International English Language Testing System, is a test that determines how comfortable the applicant would be studying in an English-speaking environment. This is a test they need to appear for when planning to enroll in a university in Australia, the United Kingdom, or New Zealand.
TOEFL
If the student is a non-native English speaker planning to study abroad, they would be required to sit for a TOEFL or a Test of English as a Foreign Language. Their test score will give the university and themselves a good idea of whether they will be comfortable with the English language in an academic setting.
TOEIC
When a student is planning to study in a business school abroad, there is a good possibility of them appearing for a TOEIC or Test of English for International Communication test. This test is designed to determine how well the applicant can adjust in a business setting where every piece of information is communicated in English.
CPE
Designed by Cambridge Assessment English, CPE, or Cambridge English: Proficiency is a well-structured test that seeks to check the applicant's advanced English language skills.
SELT
If an applicant has been researching universities' admission process for international students in the UK, here is a test they must know about. SELT, an abbreviated form of the Secure English Language Test, is an English proficiency test designed for students planning to apply for a visa to study in the United Kingdom.
International GPA Calculations for Graduate Programs
The Grade Point Average, simply known as GPA, can be best described as a global grading system that is taken into account by most international universities. The GPA scale extends from 0.0 to 4.0 and serves as a reflection of a student's performance.
If somebody is serious about applying to a foreign university, they must convert their score into GPA. The GPA score always works as a solid comparative measure even if the college they are about to apply to prefers having a look at their marks or performance in a different format.
The GPA measures the student's academic achievement over a certain period, like a semester or year. A majority of reputed universities across the world use it. Universities opt for it as their primary measuring system in countries like Australia, the USA, and Canada.
The 4.0 GPA scale, which is also referred to as the Unweighted GPA scale, is used extensively as a GPA measurement scale in different colleges and universities globally. While the 5.0 GPA scale is prevalent in high schools, the 4.0 GPA scale is preferred in universities.