Important Entry Requirements for Post-Graduate Programs Abroad
Sulekha
Study Abroad Team
28/07/2023
Requirement for Post-Graduate Studies
Irrespective of what degree or academic programs students aspire for, studying in foreign universities is gaining prominence. The benefits of completing a post-graduation degree abroad are limitless. Pursuing a postgraduate degree in universities in Germany for international students can be one of the most thrilling experiences. However, making this choice isn't simple, especially when other options like studying in my home country are available. Students can increase their career prospects by pursuing a post-graduation degree abroad.
Students who excel in their programs benefit from their universities' partnerships with renowned businesses. A degree from abroad can boost a graduate's competitiveness in the market. One should know some requirements when pursuing a Master's degree from abroad.
An Undergraduate Degree 
Based on the program and the university, it is not necessary to have an undergraduate degree. But most universities may require students to have a GPA of 2.1. However, this requirement varies from one institution to another.
 Entrance Tests 
To pursue MS abroad, students don't need to appear for entrance tests. However, students pursuing degrees like MBAs should have to take entrance tests. The entrance test is the gateway for students to reputed colleges.
Language Proficiency 
Students must be proficient in English if it isn't their first language. To study at foreign universities, international students should appear for a language test to showcase their skills.
Professional Experience 
Some postgraduate programs may need the students to have professional experience. The students must communicate with their respective universities to learn more.
The best way for students to know about the eligibility criteria of foreign universities is by checking their websites. Students can also communicate directly with the universities in Germany for international students for relevant details.
Exams Required to Study Abroad for Postgraduate Students
Thousands of aspirants migrate to several parts of the world annually to pursue higher studies. Undoubtedly, the global educational system has changed drastically. It can now accommodate students from all backgrounds.However, there are specific preset academic standards that require to be complied with to get admission. Postgraduate students should know about the necessary exams to study abroad. Here are the exams for which students should appear to pursue higher studies in Switzerland's top universities. 
TOEFL- Test of English as a Foreign Language 
The TOEFL test measures how well non-native English speakers can assess and comprehend university-level English. A TOEFL score is needed for admissions to numerous colleges and universities in the United States, United Kingdom, Australia, etc.
IELTS- International English Language Testing System
IELTS is an English assessment test for those who want to study abroad. The British Council, Cambridge University, and IELTS Australia organize the IELTS test. It is one of the most prominent tests taken by international students.
GRE- Graduate Record Examination 
GRE is another popular examination among students to pursue postgraduation in the US or Canada. GRE is a standardized test that analyzes verbal, mathematical, and general analytical skills. However, the format of the GRE has changed over the years. It is a standard test to seek admission for a Master's in science and engineering in foreign countries.
SAT- Scholastic Assessment Test 
SAT is a globally recognized college admission test to assess candidates' verbal, written, and mathematical skills. Applicants for Switzerland's top universities are required to appear for this examination. Furthermore, SAT scores are also accepted by a large number of universities in the UK. 
GMAT- Graduate Management Admission Test 
GMAT is the primary option for MBA aspirants looking to study abroad. GMAT is the preliminary admission test for B-Schools worldwide. MBA aspirants should have a good GMAT score to seek admission to top foreign universities. More than 20000 universities in 114 countries accept the GMAT score.
MCAT- Medical College Admission Test 
Besides knowing the cost of MBBS in the USA, aspirants should also know about the MCAT exam. Students seeking admission to UG courses in medicine should appear for this test. The question format of the MCAT is based on multiple-choice questions.
LAST- Law School Admission Test 
The LSAT is administered by the admission council of the law schools who want to pursue a career in law. LSAT is applicable to those students who wish to seek admission into law schools in Canada, USA, and Australia.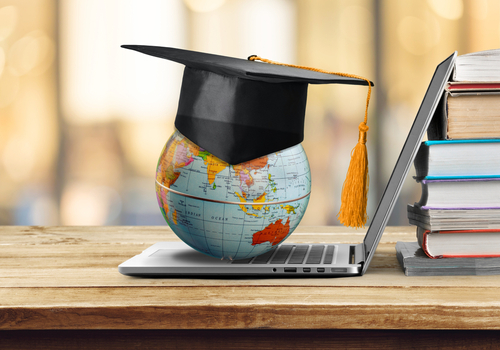 What are the Language Requirements for Foundation Programs?
Students wanting to pursue foundation programs abroad should know the language requirements. TOEFL and IELTS are the most commonly accepted English language tests in English-speaking countries.Most foundation programs require a minimum IELTS score of 5 to 5.5. Students should contact the respective university to learn about the language test requirements for foundation programs.   
The language tests analyze the abilities of international students to speak, write, and read in a specific language. However, having language proficiency may not be enough. Students also need to furnish evidence of their previous work experience.  
What are the Academic Requirements for Foundation Programs?
In most cases, foreign universities and educational institutes look for promising high school graduation grades for international students. Due to differences in the academic sectors, universities list the minimum grades accepted for each country.
International students seeking admission to Norway's top universities should have good high school grades. Good high school grades should depict challenging advanced-level work undertaken by the student.
Entry Requirements for Foundation Programs in Australia
To pursue foundation programs in Australia, students should complete high school in their home countries. International students should submit their high school certificates before getting admitted to the foundation courses in Australia. The language requirements for foundation programs in Australia are as follows.
IELTS- Students should have an overall score of 5.5
PTE- An overall score of 42, with now a score lower than 36
Entry Requirements for Foundation Programs in New Zealand
Most accredited universities in New Zealand frame foundation program rules by consulting with NCEA. National Certificate of Educational Achievement, or NCEA, is the primary national qualification standard for students in New Zealand. Here are some entry requirements for foundation courses in the universities in New Zealand.
Students should secure a minimum IELTS score of 6
Some foundational programs may require higher scores
Students should secure the minimum foundation program average score
Entry Requirements for Foundation Programs in the United Kingdom
In the universities in the UK for international students, the foundation course introduces students to the education standards of the UG degree. Students must secure good high school grades to get admission to the foundation courses.
Moreover, the minimum score varies from one university to another. The universities will assess their profile if the student has relevant work experience. To get admission to UK universities, students should have an average IELTS score of 4.5.   
Entry Requirements for Foundation Programs in the USA
The overall scenario for international students pursuing foundation courses in the USA is good. In the US, the foundation degree courses are for those students who don't meet the direct entry criteria for American universities.
Usually, the foundation programs contain academic and language courses in the US. Students can advance their academic careers faster with the foundation programs in US universities. The total duration for a foundation degree in the US is one year. Aspirants need to secure good grades to seek admission to the Bachelor's degree.   
Entry Requirements for Foundation Programs in Canada
Canada is a popular destination for international students to pursue foundation degrees. The foundation programs in Canada are primarily of one-year duration. International students enrolling in foundation degrees should be able to meet the essential eligibility criteria.
In Canada, the foundation programs are full-time. Students must invest at least 25 to 40 hours for academic purposes. Students will be granted the UG courses after successfully completing the foundation courses.
International students can pursue a Bachelor of Arts, Bachelor of Business Administration, Bachelor of Science, etc. Through every step of the course, the teachers will support the students ably.
If one has good grades in their high school exams, they can enroll in the foundation degree courses in Canada. Here are some other requirements for international students to enroll in foundation degrees in Canada.
Students should secure a minimum IELTS score of 6
If English is not the first language of the aspirants, they will need to prove their proficiency in the same.
Most Canadian universities will accept provisional results
Getting a post-graduation degree from a foreign university is an experience with unique benefits. The postgraduate programs abroad offer aspirants a large number of opportunities. Furthermore, they can opt for research opportunities to advance their career.
The requirements above are essential for international students to gain access to foundation programs abroad. Studying abroad for post-graduation in the right university is a rewarding experience. But students should know about the eligibility criteria and academic requirements to optimize their chances of seeking admission.