Why Should Aspirants Choose to Pursue Post-Graduation in Canada?
Canada is one of the most popular countries for international students to pursue a Master's degree. From reasonable tuition fees to a favorable lifestyle, there are many reasons why one should select Canada as their study abroad destination.
With the increasing demand for highly skilled workers in the job market, many students feel motivated to pursue a Master's in Canada. With MS from Canadian universities, aspirants can increase their chances of getting a job in a specialized field. Mentioned below are some reasons why students prefer Canada as their study-abroad destination.
Academic Excellence
One of the most important reasons students prefer studying in Canada is its high quality of education. An MS degree from Canada is recognized worldwide. Moreover, students have an excellent chance to be employed by some of the most popular organizations.
Ability to Earn while Pursuing MS
Thanks to the particular regulations, Canada allows all international students to work up to 20 hours every week. To work on-campus, aspirants don't need any additional work permit.
Pathway to Get a Canadian PR
Many aspirants look for jobs after MS in Canada with the sole intention of getting a permanent residency. Pursuing an MS in Canada and then taking up a job in the same field optimizes the aspirant's chances for PR.
How to Find a Job in Canada after MS?
Before diving into the strategies to find jobs after MS in Canada, aspirants should know whether they can work in the country. After a Master's degree, aspirants can work in Canada. However, they will need a work permit to do so. Here are some strategies to find suitable jobs after MS in Canada.
Preparing a CV that Highlights the Skills of the Aspirant
Before finding jobs in Canada, students should prepare a resume that comprises all necessary academic and professional details. In this manner, aspirants can catch the attention of the employers.
Consulting with Service Canada
Service Canada is a government agency. It allows the students after MS to search and apply for jobs in Canada.
Job Fairs
Most universities organize job fairs where students can access suitable employment opportunities. Moreover, Canadian universities also have a dedicated team of counselors to help aspirants find the right job.
Candidates should Filter their Choices
Aspirants should be selective in choosing their target job roles. To effectively distribute the resume, job applicants should resort to informational interviews and networking.
Importance of Being Proactive
Candidates should keep maintaining constant communication after receiving the initial response from employers. They should be ready to follow up with their potential employers within a week of applying for a job.
Work Permit after MS in Canada- Things to Know
Students may be eligible for a Post-Graduation Work Permit in Canada if they have graduated from a Designated Learning Institution (DLI). With this work permit, one can stay in Canada temporarily to work.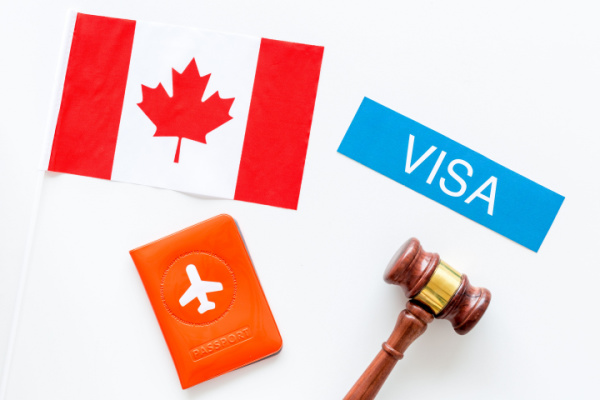 Graduating from a DLI doesn't automatically make a candidate eligible for PGWP Canada. There is a long list of DLI colleges in Canada to choose from. Here is the list of Designated Learning Institutions in Canada.
Canada College of Education
Access Business College
Mount Royal University
Ambrose University
Brandon University
The Post-Graduation Work Permit in Canada allows students who have pursued MS from a recognized institution to gain valuable work experience. Through the Post-Graduation Work Permit, aspirants can become permanent residents. Here are some essential aspects to learn about this work permit.
This work permit is valid for between eight months to three years.
Usually, PGWP Canada is the same duration as the applicant's study period. For instance, if the MS course was of three years duration, the period of the PGWP should also be the same.
Can International Students Get the Permit to Work in Canada after MS?
International students arrive in Canada to make the country their home after MS. Students graduating from DLIs will be entitled to the benefits of a post-study work visa in Canada. With the post-graduation work permit, students after MS can enjoy the same rights as Canadian citizens.
The international student should be at least 18 years old to be eligible for this work permit. Moreover, they should have studied full-time in Canada in a program for at least eight months.
To apply for a work permit, international students must apply within three months of completing their MS program. Furthermore, the passport of international students should be valid for the entire length of time their PGWP would be. Here are the other eligibility criteria aspirants should know.
Students should have an authorization letter or document stating the completion of the program from the institute.
It is essential for international students to have an authorization letter from the university.
Reasons to Look for a Job after MS in Canada
Regarding job opportunities, Canada has some of the best MNCs and industries that offer lucrative job offers to students. The job market in Canada is witnessing rapid growth across all industry domains. The average salary in Canada after MS is approximately CAD 65000 per year.
Canadian employers prefer hiring workers who possess critical thinking and problem-solving skills. Canada is ranked as the second-best country in the world, behind Germany, for overall cultural and economic influence. Here are some reasons students should look for a job after MS in Canada.
The country has excellent economic freedom because of its reliable public financial system
It has a relatively lower unemployment rate compared to other developed countries
Canadian employers provide paid holidays and paid leaves, including maternity leaves
The Canada Pension Plan (CPP) entitles employees to several benefits
The Popular Professions in Canada and How Much Do They Pay?
Here are the popular professions in Canada, along with their approximate salaries.
1. Job Opportunities after MS in Computer Science
Lecturer- The average salary of a lecturer is $101435 annually
Software Engineer- The average salary of a software engineer is $72041 annually
Software Developer- The approximate salary of a software engineer is $68500 annually
2. Job Opportunities after MS in Data Science
Data Scientist- The average salary of a data scientist is $75000 annually
Data Analyst- The average salary of a data analyst is $72000 annually
3. Job Opportunities after MS in Civil Engineering
In Canada, the job opportunities for international students after MS in Civil Engineering are increasing rapidly. Since civil engineers are in high demand, international students will be put in any top company effortlessly. Here are some job opportunities after MS in Civil Engineering students should know.
Civil Engineer- The average salary of a civil engineer is $65000 annually
Civil and Electronics Engineer- The average salary of a civil and electronics engineer is $60000 annually
4. Job Opportunities after MS in Business Analytics
Business analyst jobs are becoming pretty famous in Canada. Moreover, students have enormous scope after pursuing MS in Business Analytics.
Business Analyst- The approximate salary of a Business Analyst in Canada is $80000
Besides knowing about these popular professions, students should also be aware of the requirements of a post-study work visa in Canada.